Cinema Circus
Posted by Ant on 23 January 2007 at 16:36
CINEMA CIRCUS GOES MEDIEVAL ON YOUR....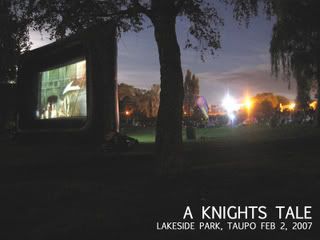 On the evening of Feb 2nd we'll be presenting the rock'n'rollin' medieval jousting flick A KNIGHTS TALE in Taupo. And what makes this event so great is that we'll be screening in the amazing area down by the river during an entire medieval weekend. This means during the next day, we'll eat drink and be merry - watch jousting tournaments, people in insane costumes trying to kill each other.

See below for more details.
Great Lake Tournament and Medieval
Next Dates: February 3rd - 4th 2007

Spa Park Medieval Festival Inaugural medieval re-enactment featuring jousting, sword fighting, skill at arms, set piece battle re-enactments, stalls and more. New Zealand`s best jousters will compete against Australia in full armour on specifically trained horses. This Festival is straight out of days of old and will be a great fun visual weekend of entertainment.

blog comments powered by

Disqus